Official description: Permanent Vacay is the ethos of a relaxing and stress-free way of life. We made this IPA as a reminder that rest and relaxation are always within reach, all it takes is one sip. A subtle grain bill of 2row and Pilsner give this brew a light body and crisp mouthfeel with a clean, dry finish. Hopped with generous amounts of Citra, Meridian, Motueka, and Melon, expect flavors of lemon peel and tropical fruit-reminiscent of a relaxing day at the beach or a restful mountain getaway; your choice. As long as you've got this beer in tow, everyday is a permanent vacay.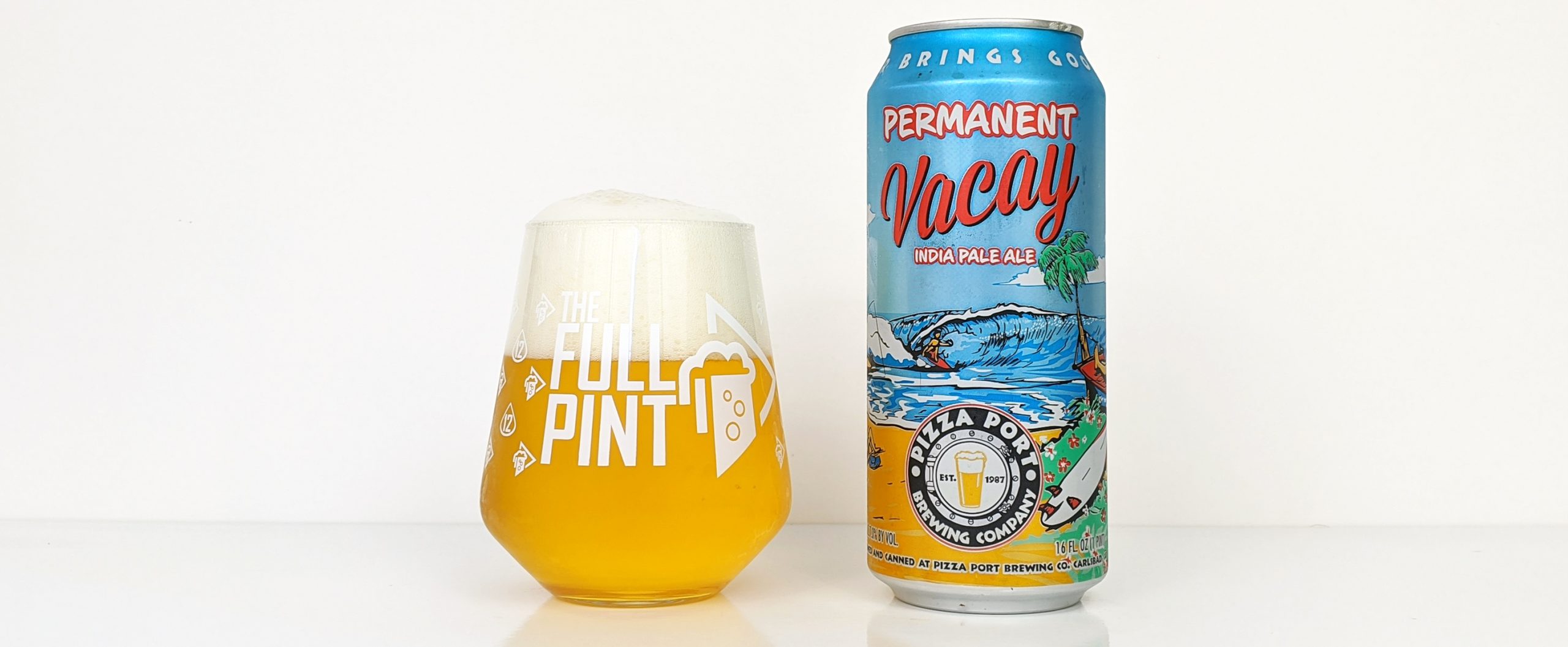 Pizza Port Brewing Co – Pizza Port Permanent Vacay India Pale Ale – 16oz can served in Rastal Harmony glass – 7% ABV
Background
Permanent Vacay is the latest in special canned releases from Pizza Port. Earlier this year, we were treated with Campgrounds, Surfari, and Sidewalk Surfin' – all excellent clear IPAs. Permanent Vacay is no exception. It's safe to say that while most other breweries in our region have gone all-in on hazy IPAs, Pizza Port remains content churning out some of the world's best clear IPAs. Hallelujah.
Now, according to the Pizza Port website, this is 7.2% ABV and made with Citra, Meridian, Motueka, and Melon hops. Though on the can itself, only Citra and Motueka are mentioned while ABV is marked as 7.0%. I'm unsure which is more correct.
Review
I'm reviewing Permanent Vacay from a 6-pack of 16oz cans that I picked up for $13 plus tax. On the bottom of each can is an easy-to-read packaging date. These can be found super fresh in our Southern California market, though I ended up taking notes on this beer once it was about 1 month old.
Into my glass, Permanent Vacay is crystal clear straw topped with bright meringue foam that barely moves for several minutes. The head retention on this is near infinite. Bringing up the glass, I get lemon squares and fresh-squeezed orange juice. It's a bit more delicate and brighter than Pizza Port's flagship Swami's IPA.
Digging in, I get quite a wallop of lemon oils, lemon rind, and white grapefruit juice from the hop side of things. On the maltier side, cake batter comes through plus Pizza Port's characteristic chewy, almost rustic grainy base. I should mention that malted rye is used, though not mentioned publicly, in several different Pizza Port IPAs such as Palapa. Since Pizza Port doesn't disclose the malt bill on most of their beers, we'll just have to guess if this one also contains rye. From my personal experience, I wouldn't be surprised if Permanent Vacay along with Surfari, Swami's, and countless others use rye for that special grainy chewiness that sets Pizza Port apart from the competition.
In the finish, Permanent Vacay brings intense herbal bitterness with lingering grapefruit rind.  And since the beer is slightly less sweet than Swami's or Surfari, to name a few, the finale ends up being a bit sharper but more refreshing.
Perceived Specs for Pizza Port Permanent Vacay IPA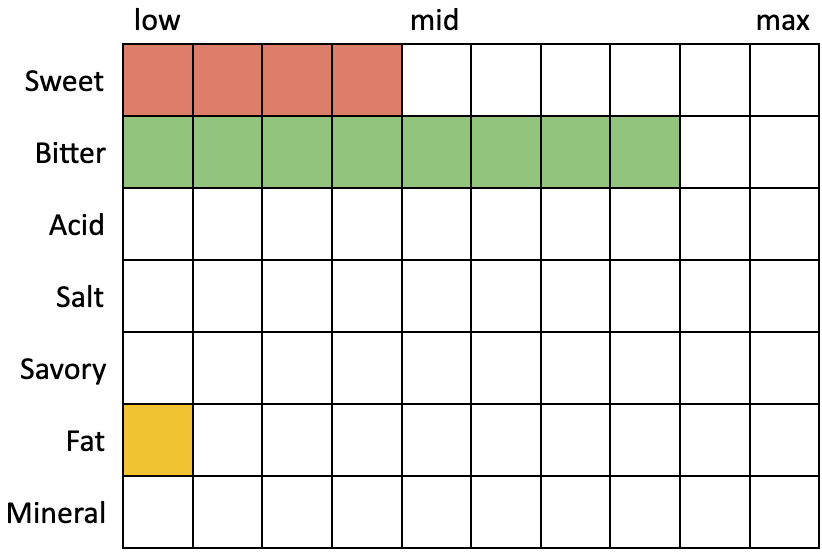 Conclusion
Pizza Port continues to make some of the world's best clear IPAs. If you've grown tired of fresh, delicious, affordable Swami's IPA and crave something slightly different, do yourself a favor and try any one of their special release IPAs. Surfari earlier this year was outstanding. I drank all of them before I could even write a review. Permanent Vacay is similarly good – just a touch lighter-bodied and slightly more refreshing than Swami's. The flavor profile is straightforward and the execution flawless. Having a clean, no-nonsense IPA is quite a rarity these days.
*         *        *
The Full Pint is a fully independent website dedicated to bringing you the highest quality reviews of today's craft beer. Our team has no financial conflicts of interest with the beer industry in order to give you the least biased information out there in today's craft beer world. Please use the comment section below for general comments about this beer and/or our review. If you would like to see a specific beer reviewed or have general comments on reviews, please email info(at)thefullpint.com. For more information on how we review beer read here.