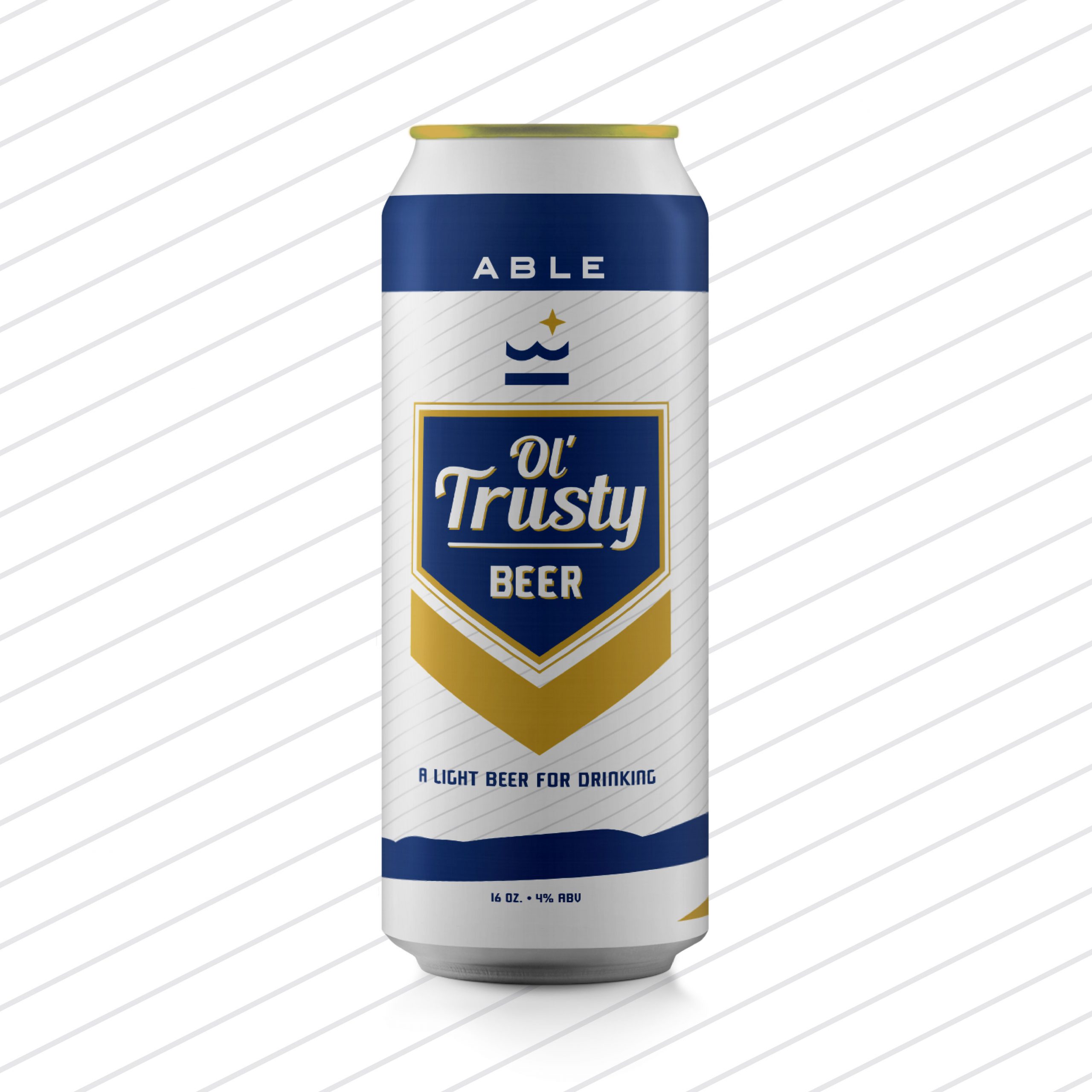 Able Seedhouse + Brewery Goes Back to the Basics
Minneapolis (June 17, 2020) –Able Seedhouse + Brewery in Northeast Minneapolis is going old school, back to a time when beer was simple, unassuming, locally-made and affordable.
Ol' Trusty is a Minnesota throwback to the classic beer that's ready to sit in the bottom of the fishing boat or stocked in the fridge for grilling, washing the car or kicking back. Put plainly, Ol' Trusty tastes like the beer you remember, and costs like it too! At just $11.99 for a 12-pack of 16 oz cans (suggested retail), Ol' Trusty is thrifty as heck.
"With Ol Trusty, we're not chasing trends or creating flavor profiles. We're establishing a baseline," says Matt Johnson, Owner of Able Seedhouse + Brewery. "It was important we got this right, so we tested it out in the taproom last year. The response was overwhelmingly positive. Ol' Trusty is one of our fastest growing beers by volume and remains the top pick among Able staff. We hope this trend continues throughout our market and consumers have a beer they can trust.  Sometimes you don't know what you're missing until you take a step back to easy drinking, beer flavored beer." Johnson adds.
"Ol' Trusty is a very light beer that, unlike others, is 100% barley malt and no fillers," says Able Head Brewer Bobby Blasey. "It's crazy refreshing with just a sprinkle of hops for a light fruitiness. If you like beer, you'll like this."
At just $11.99 a 12-pack targeted retail price, Ol' Trusty is perfect for stocking the fridge as a solid standby and the cooler for your next outdoor adventure. Ol' Trusty is a light beer with 4.1% ABV and 3 IBU. Stop by Able's pick-up window now for a 12-pack and in local retailers starting June 22. For samples, interview opportunities or additional details, please contact Kelly Plummer at 651-206-9852 or kelly@superstarpr.com.
ABLE Seedhouse + Brewery
Founded in 2015, Able Seedhouse + Brewery is a community of creative, hard-working and thoughtful people dedicated to building locally inspired and ultra-fresh beer. Every concept, piece of art, package, design, and beer poured at Able are the result of a very curious group of people and the community supporting them. ABLE is located in the Arts District of Northeast Minneapolis at 1121 Quincy St NE. ABLE is also home to Animals Barbeque Company. To learn more, go to: www.ablebeer.com.
BE YOU. BE ABLE
Contact Info
Company: Able Seedhouse + Brewery
Contact: Kelly Plummer
Email: kelly@superstarpr.com