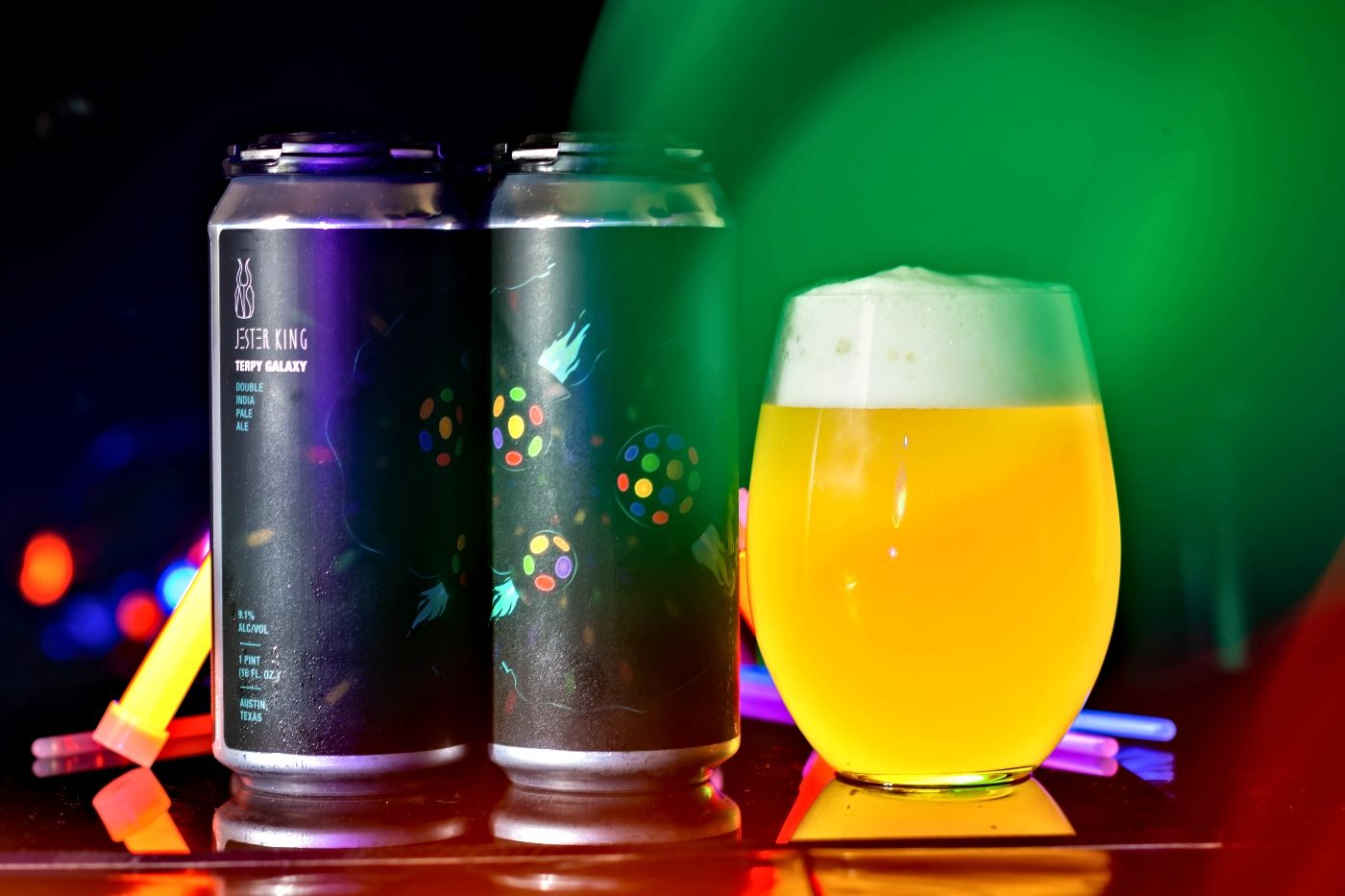 Jester King Brewery is over the moon to announce our latest launch —  TERPY GALAXY, a double IPA hopped with Australian Galaxy hops!
Terpy Galaxy is a recipe swap with our great friends at American Solera in Tulsa, Oklahoma. During these times when onsite collaboration brews have been difficult or impossible to do, recipe swaps have emerged as one way for brewers to stay connected. American Solera brewed and released O.G. Black Metal Imperial Stout at their brewery, and we took the recipe for Terpy Galaxy Double IPA and brewed it here!
Mashed with local malted barley from Blacklands Malt, oats, and wheat. Dry hopped aggressively with Australian galaxy hops. Pure culture fermentation in stainless. 9.1% alcohol by volume. Canned and kegged on Thursday, July 30th, at Jester King.
Released today (Friday, July 31st) at Noon, Terpy Galaxy is available by the glass and in 16oz. can four-packs ($20). We have about 1,200 four-packs available. No limit.
Proxies are welcome (please designate when ordering). Order online for curbside pickup or make a reservation to come see us at our re-imagined outdoor space.
Cheers and thanks to American Solera for participating in this fun, remote project with us!
Original artwork by Joe Cappa (adapted by Joshua Cockrell for the recipe swap)
Photography by Granger Coats
#jesterking #americansolera #terpygalaxy #galaxyhops #doubleipa #recipeswap #timeplacepeople
Contact Info
Company: Jester King Brewery
Contact: Debbie Cerda
Email: media@jesterkingbrewery.com