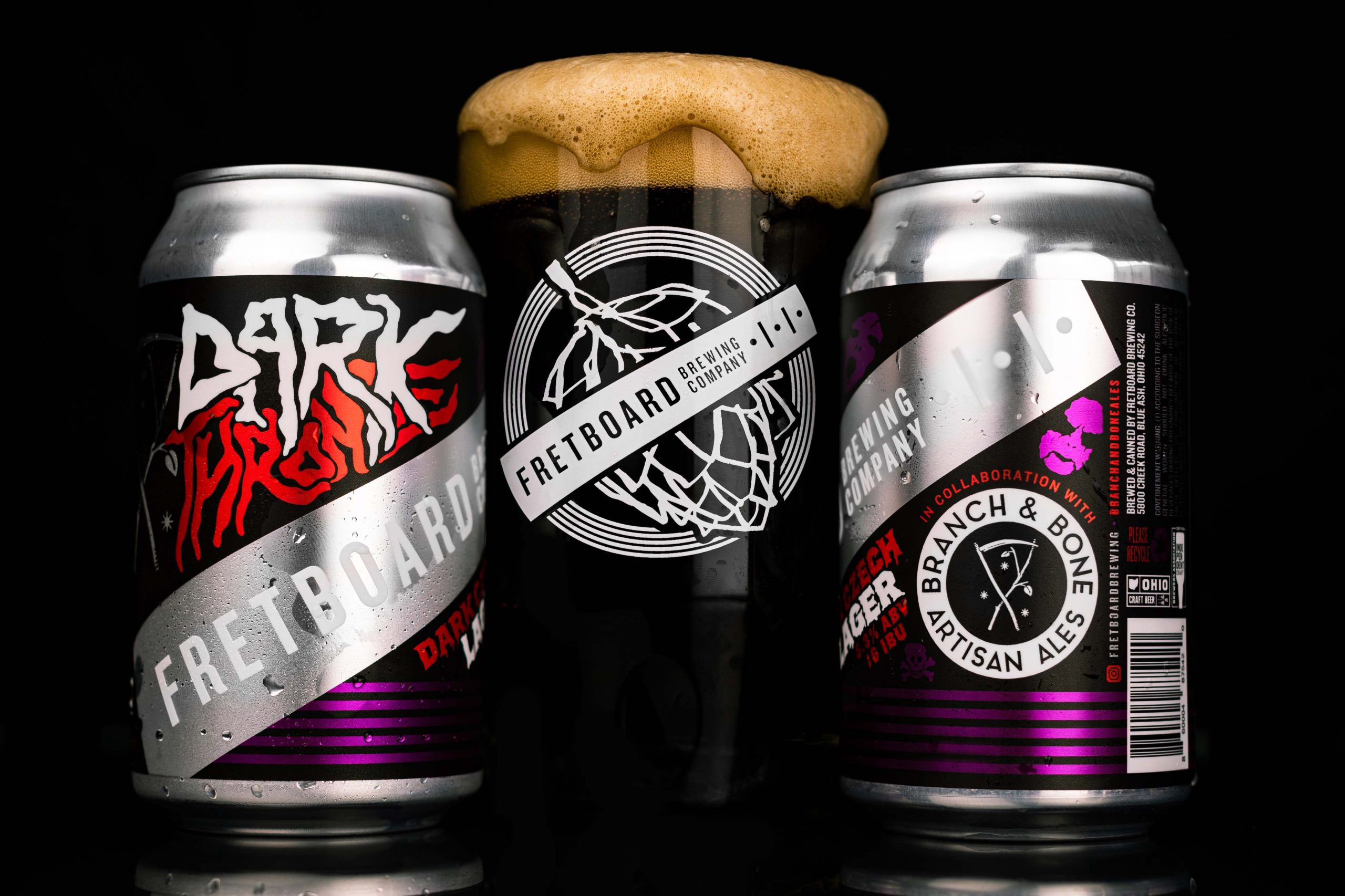 Fretboard Brewing Company (Blue Ash, OH) isn't known for their collaborations with other breweries. Over the course of their 3 year history, they've partnered with musicians like Bootsy Collins and The Cliftones, to foundations like ArtsWave, and even a bread company (Klosterman Baking), but they've never released a product brewed in partnership with another brewery. Until now. Today, Fretboard is proud to announce the release of "Dark Throne" Dark Czech Lager, a collaboration with one the country's rising small breweries, Branch & Bone Artisan Ales (Dayton, OH).
Making a name for themselves since opening in 2018, Branch & Bone was quickly recognized by USA Today as a "10 Best" Small Brewery in the country. Fretboard's Director of Operations, Kevin Moreland, has a storied history with breweries in Cincinnati and had been paying close attention to the incredible liquid being brewed by Brett Smith, co-founder and head brewer of Branch & Bone. The two met in February this year at the Ohio Craft Brewers Conference in Dayton and the brainstorming for a collaboration quickly began. Both Kevin & Brett share a love for lager beer, and brewing traditional styles not commonly found in the market. After a months-long hiatus in communication, as both breweries managed business under new guidelines, the two saw Fall approaching and landed on a beer neither had ever brewed; a dark Czech lager.
On brew day, Smith sat down with Moreland for an episode of Fretboard's interview show, FretboardTV, and explained how they landed on the name, "Dark Throne". Inspired by a Norwegian black metal band by the same name, Smith went on to add, "We do like heavy metal a lot in our brewery. It gets us through the work day sometimes. Buckles us in." Both sides agreed that a dark beer deserved a dark name, and with a release in October, it only amplified the spooky theme.
"Dark Throne" is a full-bodied lager, with notes of caramel, toffee, dates, and bread. The perfect transition from Marzen and Festbier for cool Fall nights. Craft beer fans can expect to find this limited release on draft and in 6-packs throughout greater Cincinnati, and in select stores in Dayton. Those who live in Ohio, but outside of the distribution range, can order the beer online (order.fretboardbrewing.com) to be shipped directly to their door.
Stay up to date with Fretboard Brewing and Branch & Bone by following them on Instagram. More big things on the way before this crazy year comes to an end!
Contact Info
Company: Fretboard Brewing Company
Contact: Mitch LaGrow
Email: mitch.lagrow@fretboardbrewing.com